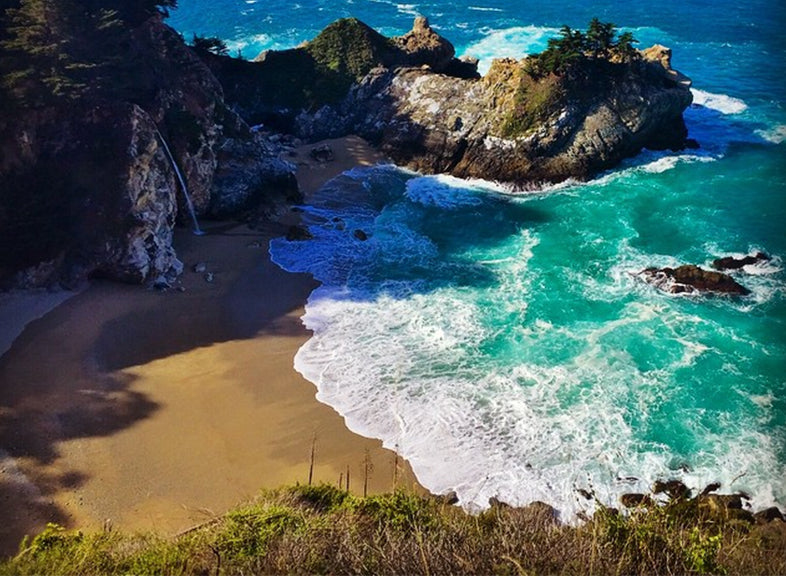 In March 2016, we were going to visit her family in the LA area and decided to take a long weekend  (Thursday evening until Sunday) to check out San Francisco and drive down the California Pacific coast to Los Angeles.
San Francisco
Hotels were upwards of $180+ for a night that weekend, so we opted to stay with a friend in the Haight neighborhood of San Francisco as we were trying to make this a fairly reasonably priced getaway.   We had dinner and some drinks at Cafe Du Nord, which has a speakeasy look and feel to it.  You walk down a set of stairs to a dark room that has seating for about 30 at the bar and another 20 or so in the main floor area.  It had a pretty good menu and so great drinks.  From there we hopped around to a few bars for some more drinks and called it a night as we were doing Napa Valley in the morning.
On Saturday, we decided to do a few more things around San Francisco before starting our drive down the California Pacific Coast.  We were heading down to Fort Mason to rent bikes across the Golden Gate Bridge, but first we stopped 1/2 way down to catch one of the famous trolleys.  We parked on a side street and waited about 10 minutes or so for the next Trolley.  When it arrived, we handed the attendant cash for the fare and boarded.  The attendant ended up being extremely kind and took pictures with us, for us, let us hang off the side to get some better views.  It was a very cool experience.
From there, we went down and rented some bikes from Blazing Saddles.  It was about $8/hour per person for the rental and takes roughly 4 hours to make the trip to and across the bridge with some quick stops along the way and then you can either choose to bike back or a ferry.  We chose to do the Ferry so we could check out some views of the Bay.  Be sure to bring your camera as you get some pretty amazing photos ops along the way.  Also, dress for the weather.  In the morning it started off gloomy and a bit chilly, but about 30-45 minutes into the trek, we were sweating and shedding our clothes.
The ferry back was very picturesque as you have views of the Golden Gate Bridge, Alcatraz Island and the San Francisco skyline. They sold some snacks and beverages (including alcohol).  Once we arrived at the dock, we biked back to drop off our bikes.
Napa / Sonoma
We rented a car for the day/night that we were going to use to drive up to Napa and then down to Monterey along the California Pacific Coast.  Be careful on the drop off fees as if we were planning on dropping the car off in the L.A. area or somewhere other than San Francisco, there were hundreds of Dollars in fees for that.
As usual the mornings in San Fran were cloudy, but as we entered Napa, the sun started shining around lunch time.  The drive was a bit boring until we got into the Vineyards, but its part of the journey.  Our first stop was at Silver Oak Winery.  We had a prescheduled private wine tour setup for us.  We arrived and they gave us a complimentary glass of wine.
The Drive down the California Pacific Coast
We began our journey down the California Pacific Coast by exiting San Fran down I-280.  We got a bit hungry and decided to pull off to grab some food in Mountain View.  While I wanted to get a glimpse of Google's headquarters we were a bit crunched on time
Monterey
We got to Monterey a bit before sun down.  It was a bit gloomy so not the gorgeous sunset that we were hoping for.  We found a great deal on a hotel called Casa Munras right in the middle of Monterey.  It was walking distance to Fisherman's Wharf and most of downtown Monterey.
When we woke up in the morning we grabbed some breakfast and started our drive.  Our first pit stop was Lover's Point right there in Monterey.  What views!
Big Sur
Tips & Hints
[mk_fancy_title size="18″ font_family="none" align="center"]
Plentiful Travel's Drive Down the California Pacific Coast Review Video
[/mk_fancy_title]
[mk_fancy_title size="20″ font_family="none" align="center"]
Plentiful Travel's Recommended Products
for the driving down the California Pacific Coast
[/mk_fancy_title]
Compatible with DJI Phantom 3 Professional Advanced Stardand.NOT fit for Phantom 2. Storage available for Quadcopter, Transmitter and other spares…
The post California Pacific Coast Drive Review appeared first on Plentiful Travel.