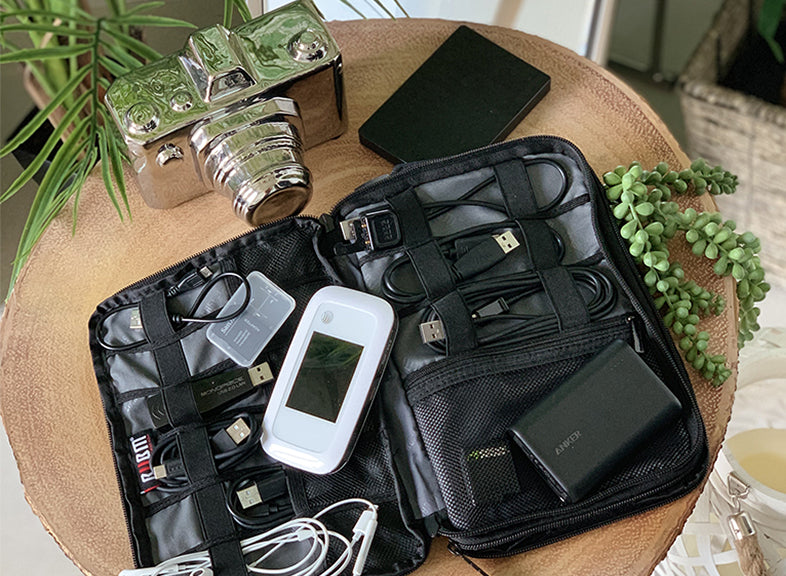 Double Layer Travel Organizer
When we travel, we have all kinds of cords that come with us. Charges for multiple iPhones and iPads, cameras, portable speakers and all of our other small electronics. Before getting the double layer travel organizer, we would just squeeze them into whatever pockets our bags had. The only problem was when we needed to charge something, it would take quite a while searching for the correct pocket.
This is where this double layer travel organizer has become a lifesaver. Not only is it compact and fits into our backpacks, carry-ons and pretty much any bag, but it stores probably 20 different cables and has pouches for small batteries, straps or SD cards.
PRO TIP FOR THE LADIES
It also can double as an efficient travel makeup case.
It comes in 4 colors: black, gray, dark blue, and blue.
The travel organizer is made of heavy-duty, durable and waterproof nylon providing padding and protection for all of your cords and accessories.
The interior compartments and zippers will keep your items secure. There are mesh pockets and elastic loops that can hold various items such as cables/chargers, flash disks, USB drives, headphones, passports, SD drives, and many other small accessories.
Get your Double Layer Travel Organizer today at Plentiful Travel. 
Double-Layer Travel Organizer