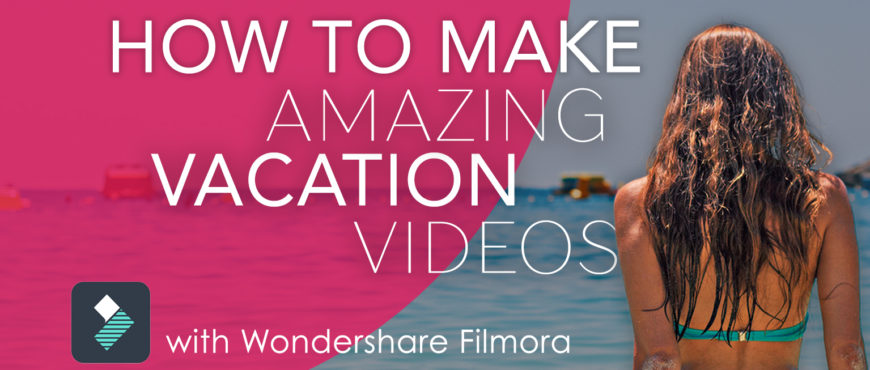 How to Make a Vacation Video
Learn to make a vacation video using Wondershare Filmora – Do you have a lot of really fun and exciting footage from a vacation that you just took and want to make a vacation video to share with your family and friends? This video will show you how an easy to use product called Filmora by Wondershare can create amazing travel and vacation videos with little to no effort.
I get a lot of questions about how I make my vacation videos. There is not one simple answer as there are many things that go into making high-quality vacation videos.
You need quality footage – you do not want shaky video or just random clips. In an upcoming video, I'll discuss how to get high-quality footage for your vacation videos
Then there is also having proper camera equipment. While your camera phone can work, you're going to want to get an action camera such as GoPro or a quality DSLR type camera
Lastly, you're going to need a program to build your vacation videos.
There are several video production software programs out there, such as Final Cut, Adobe Premiere, iMovie or even programs that come with your equipment such as GoPro's Capture or Quik App.
Now if you are like me, you have a busy schedule which makes it almost impossible to learn a new or advanced video production software.
If you watch my earlier vacation videos, you can see the quality gradually increase over time. I used basic programs that did not have a lot of features but then once I came across and started using Filmora the quality quickly became so much better.
Wondershare Filmora is a paid software ($59.99 for a lifetime license). It comes with the entire program as well as some awesome features that include:
Fun and unique transitions
Music options
Overlays and animations
Effects store (for downloading additional effects, overlays, etc)
Wondershare Filmora – I used to solely have GoPro footage so all of my videos were made using Quik.  However, as I added in footage from my drone(s), DSLR's and other recording devices, I needed something that I had a little bit more control over.  I found Filmora on a random ad and paid the $59 (one-time fee) and gave it a try.  I use this currently for all of my vacation videos. It is easy to use and has the ability to add animation to any video, intros and text overlays along with more advanced editing features.
If you are a beginner looking to make a vacation video, I would start with Quik or Wondershare Filmora.  If you are just shooting footage with your GoPro, then you can use Quik for your first couple videos.  Otherwise, spend the $60 and get Wondershare Filmora.  If you are planning or wanting to really make some amazing vacation videos now and in the future, and not just a couple here and there, move to Adobe Premiere.
Beginner Equipment for Making Vacation Videos
$

648.00

24 MP APS-C CMOS sensor ISO 100-25600 (expandable to 51200) Hybrid AF with 179-point focal plane phase-detection and 25 contrast…

$

215.00

Stunning 4K video and 12MP photos in Single, Burst and Time Lapse modes. Durable by design, HERO5 Black is waterproof…
Helpful Tips and Tricks for Making Vacation Videos
-Have a plan by creating a short script so that you know what shots that you want to get. This will help eliminate you spending the vacation with the camera always out and shooting everything and anything that will essentially be useless.
-Get plenty of quality footage so that there is no shortage when you are making your vacation video.
-Practice makes perfect. You're likely not going to make an amazing video on the first try. The more you make videos, see what works and does not work and you'll figure out the right way to make amazing vacation videos.
-Ask for feedback. Ask friends and family what they thought of it. Was it too long? Was it entertaining? This will help to make sure you are making quality vacation videos for your audience.
More Travel Videos from Plentiful Travel
Here are some top camera products that we use
when making vacation videos and travel videos
$

86.45

20.1 MP 1/2.3" Super HAD CCD Sensor Optical 5x Zoom Lens & 10x Digital Zoom Equivalent 35mm Focal Length: 26-130mm…
The post How to make a vacation video using Wondershare Filmora appeared first on Plentiful Travel.