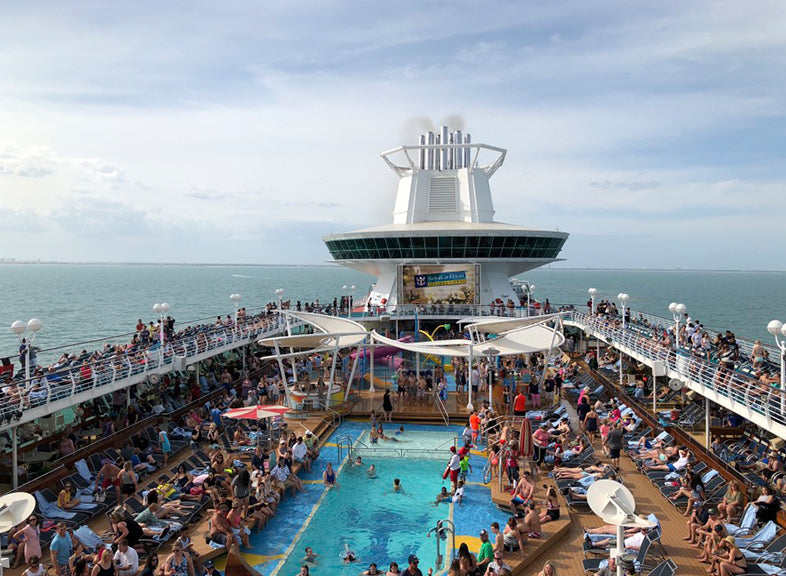 We have sailed with Royal Caribbean in the past and have had a great experience with them so we decided to book a cruise again to include our parents.  After a bit of research on ships, length of cruise and included stops, we settled on Royal Caribbean's Navigator of the Seas traveling from Port Everglades to Grand Cayman, Jamaica and Haiti before returning to Ft. Lauderdale.
Getting There
Once we reached Ft. Lauderdale 2 days early so that we could enjoy Miami as no one in the group had been there before.  We took a stretch limo from FLL to the Pestana South Beach Art Deco Hotel.
Boarding the Ship
Upon arrival to the Navigator of the Seas about 3 1/2 hours before we were scheduled to depart.  Seeing as we have cruised before I am a "Gold" member and allowed a few extra benefits through Royal Caribbean, one being expedited check-in.  You do not need a lot of points to achieve the Gold level, so sign up for their Crown and Anchor membership.
Each room is able to bring on-board 2 bottles of wine with them.  Every room carried 2 bottles per couple right through security without anything being said.  We could have packed another 2 in each of the checked baggage if we had wanted.  In addition, we purchased some "rum runners" via Amazon which proved to save us quite a bit of money.   At the end of the cruise, we literally had to throw some out at the end of the cruise because we did not drink all of it.  We stuffed the rum runners into our luggage and when the luggage was dropped off at our door, it was there waiting for us.
Day at Sea
On our first day at sea, we spent some time walking around the Navigator of the seas and enjoying the sun.
Grand Cayman
When we arrived at Grand Cayman, we were eager to get off the Navigator of the Seas and to our first excursion.  None of us have had to "tender" before, which is where there is no dock that the ship pulls up to, rather they anchor out in the ocean and have small vessels that carry roughly 150-200 passengers to shore.
Jamaica
On our second stop of the trip was Jamaica in which we were a little less prepared.  We did not have an excursion prepared.  We tried to book a driver the night before, but the website was not working and we could not submit a request.
Instead, upon arrival to the port, we went to an excursion hut that was in the middle of the cruise port to ask for information.  We told them that we wanted to do a tour with a driver and right away they called a guy named Devin, and within minutes we met him where all the drivers were to begin our day.  It really turned out well.
Haiti
Our last day was on Royal Caribbean's privately owned land of Labadee.  We knew that we were limited to the cruise lines excursions only and would cost a good amount.  Both or our parents did not need to do any excursions, especially for the high costs so Lauren and I decided to do our own thing and booked a day excursion to a small private island called Amiga Island.  The weather was getting cloudy, but as we moved away from Labadee, the sun started shining and ended up being a gorgeous day.
Day at Sea
The last day at sea also happened to be my birthday.  Most of us just wanted to relax and enjoy the final hours on the Navigator of the Seas.  We had a few drinks, laid out on the top deck and pool and went to the dining hall for one last dinner together.  Once we docked back in Port Everglades, we chose to do the express debarking in which we can carry all of our luggage off and be the first to leave.
Tips & Hints
I've had great success in booking cruise a month or so from the departure date as the prices typically drops.  If you are looking to save money, you might want to try this out as I've saved hundreds of dollars booking this way
Take advantage of bringing on your own wine.  Board the ship separately so that each person in your room can bring on 2 bottles each (4 combined).  Also, get some rum runners to bring a bottle or two of liquor.  These two practices alone will save you hundreds of dollars as well
Book as many excursions ahead of time, not through the cruise line as it will cost much more to do so on the ship.  Yes, it is not "insured" if you are to miss getting back to the ship on time, but as long as you book through a reputable 3rd party, you should not have any issues.
[mk_fancy_title size="20″ font_family="none"]
Navigator of the Seas Vacation Video
[/mk_fancy_title]
[mk_fancy_title font_family="none"]
 Plentiful Travel's Recommended Products
for cruising on Royal Caribbean's Navigator of the Seas
[/mk_fancy_title]
Compatible with DJI Phantom 3 Professional Advanced Stardand.NOT fit for Phantom 2. Storage available for Quadcopter, Transmitter and other spares…
The post Royal Caribbean's Navigator of the Seas appeared first on Plentiful Travel.