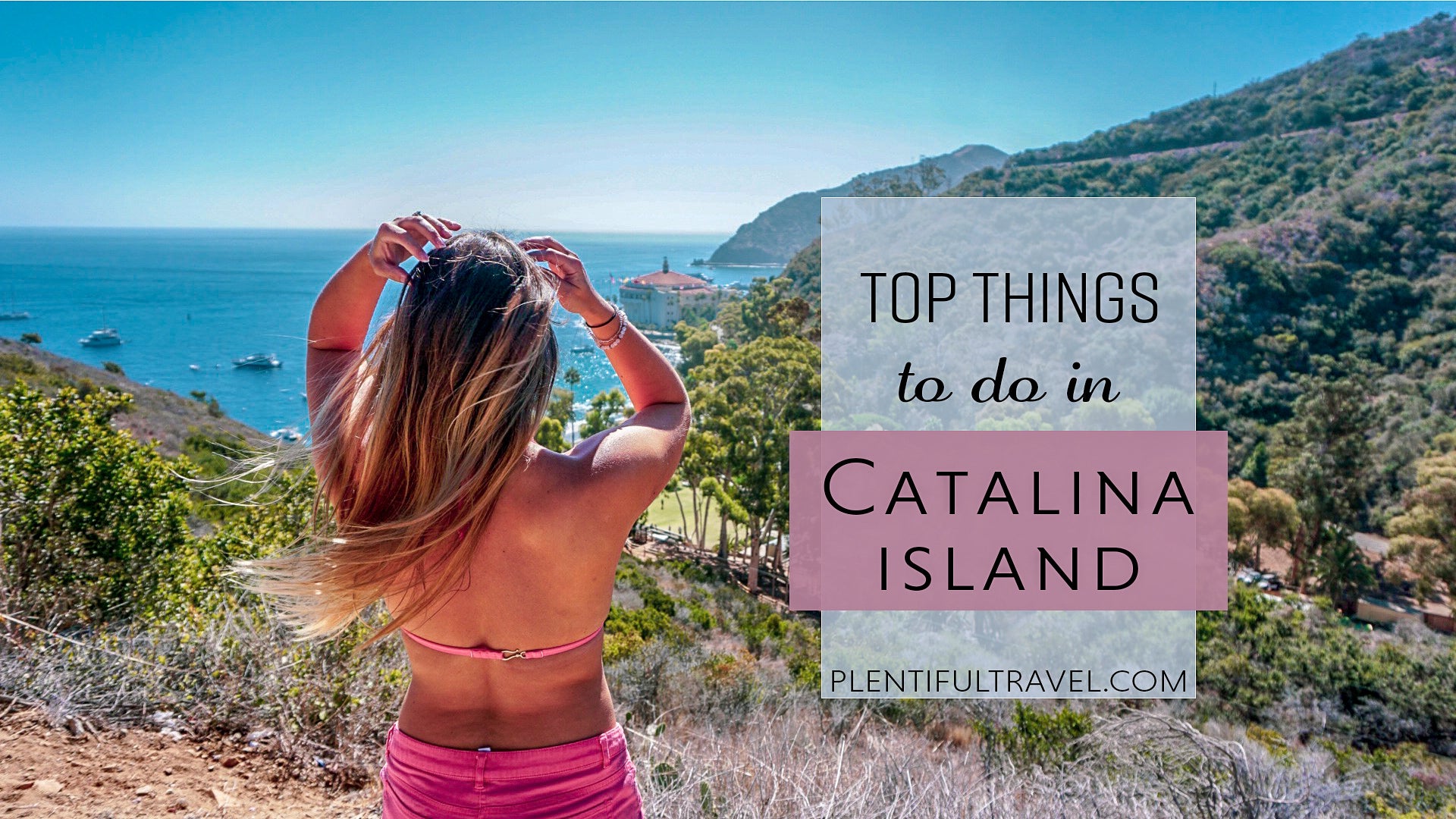 THINGS TO DO IN CATALINA ISLAND | GETTING TO CATALINA ISLAND
A weekend in Catalina has always been on his bucket list and with me being a SoCal native, he thought I would have been there a million times and have tons of knowledge about things to do in Catalina Island and how to get to Catalina. That's wasn't entirely the case. I had to do some travel research to figure out how to get to Catalina and things to do to even figure out if a weekend in Catalina was do-able for a last minute trip, (I had only planned it a day in advance). To my surprise, and luckily, his, it was a very do-able last minute trip and before we knew it, we had tons of recommended things to do in Catalina Island as well as tickets on the earliest ferry out of Long Beach.
PLENTIFUL TRAVELS TOP THINGS TO DO IN CATALINA
We recommend starting your day by waking up to the sounds of nature and enjoying a cup of coffee outside, or take the golf cart to South Beach or Middle Beach to enjoy the sunrise. While small, there are tons of things to do on Catalina Island. So much, we couldn't get to everything we wanted to do in a weekend, which was totally surprising and very cool!
Golfing
Boating
Zip Lining
Snorkel & Scuba
Hiking & Biking
Adventure Tours
Relaxing at the beach club
Enjoying the spa
Lightweight Packable Backpack
Phone Camera Lens Kit
Anker Bluetooth Travel Speaker
A ferry is the most common and convenient way for weekenders who need to know how to get to Catalina, without breaking the bank. There is always the option of a helicopter! The four popular ferry terminals to Avalon, Catalina from the SoCal coast are out of San Pedro, Long Beach, Newport Beach, and Dana Point. There are several departure times available from each location, with more limited times during the slower season of late October through April. Prices are pretty standard of $70 round trip which includes up to two 50lb luggage items to be stored.
We found out the "last-minute way" that there were even departure times available that were not listed on the website. Because I booked this trip with under 24-hours until we would arrive, Catalina Express requested a phone call for booking, where they very kindly laid out more options than were listed. This worked out well because we were then able to arrive in Avalon by 7:30 am.
*Pro tip, leave as early as possible to arrive at Avalon before the tourist rush, which starts to show at around 11. You'll have first dibs at what to do in Catalina the earlier you get there.
While there are many Airbnb's and Inns in Avalon, it is fairly limited in terms of diversified options unless you stay in Hamilton Cove. That isn't to say anything negative at all. It's the charm of the island and the reason they welcome over a million visitors annually. There is a charming character throughout the whole town that makes Catalina what it is.
Just note that that spending hours of Airbnb research isn't going to yield tons of various results. We were lucky enough to stay at Hamilton Cove in Avalon, which is a private gated community with unparalleled views and amenities galore.
Hamilton Cove is on the pricier end but provides an incomparable experience, making it well worth the spend.
Here are a few of Plentiful Travels cost-friendly top travel products to pack if you've decided to venture on in exploring the top things to do in Catalina Island: