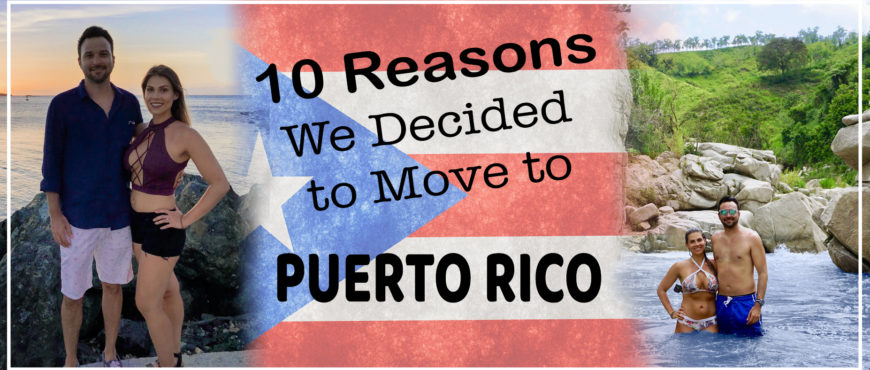 Top Reasons to Move to Puerto Rico
We're on our way to move to Puerto Rico! We made a decision earlier this summer that we were going to move there and make that our primary residence. Puerto Rico truly has so much to offer despite the popular consensus of the media. The island is a gem and our goal in sharing our top reasons to move to Puerto Rico is to educate and inspire those who have not considered Puerto Rico as a top travel spot to reconsider their plans. We're excited to give you some insight into our personal lives with this journey. 
Plentiful Travel's Top 10 Reasons
to Move to Puerto Rico
1. Adventure
2. Romance
3. Tax Incentives
4. Opportunity
5. Beaches
6. Culture
7. Seclusion
8. Vacation Home Investment
9. Cost of Living
10. Change of Scenery
Puerto Rico Vacation Video
1. Adventure
Puerto Rico is a commonwealth of the United States that conveniently offers the feeling of foreign exuberance without the need for a passport. With close to 300 beaches, a rainforest, and easy access to surrounding islands, a move to Puerto Rico will inevitably include endless amounts of weekend explorations.
Adventure truly is what you make it. We want our adventure to be that of a move to Puerto Rico. We do not know anyone and do not speak much Spanish, but what is an adventure without a few hurdles?
2. Romance
There's something very romantic about the cobblestone paved streets of Old San Juan that will have any couple, young or old, finding new reasons to fall in love. Couple that with the seductive Latin sounds coming from the balconies of the neoclassical homes of the city. The bright colored buildings and impressive historical forts bordering the ocean invoke unparalleled character. They don't call Spanish the "language of love" for no reason.
3. Tax Incentives
Currently, there is a tax incentive for investors called Act 22. This "provides a total exemption from tax on Puerto Rico sourced capital gains, interest, and dividends realized once the individual is declared a bonafide resident." Christian Reeves, Premiere Offshore.  Many people have already taken advantage of this as in the mainland US, most people pay 30% or more for income taxes. Moving and establishing residency in Puerto Rico, that rate can be closer to 5-6%.   So, if you're in the business to do business in Puerto Rico, money. 
4. Opportunity
This is probably our personal and most anticipated reason for our move to Puerto Rico, and it is two-fold. We all know that the island has suffered a great deal from Hurricane Maria and that power was not completely restored to the island until August of 2018. The opportunity to lend hands and financial aid to rebuild is still very much there and we look forward to meeting and working with the inspiring people and unsung heroes of Puerto Rico. The second part of this is the opportunity to bring jobs to Puerto Rico. With an unemployment rate of over 10%, Puerto Ricans are having to move out and separate from their families in order to provide. Part of our goal is to start a small business that will educate and provide jobs to at least a few eager people.
5. Beaches
Culebra, Aguidilla, Condado, Mar Chiquita, and countless more. The beaches, the waterfalls, the rainforest, and the rivers are all breathtaking, accessible and not overcrowded in Puerto Rico like they are in the states. You can do day trips to pretty much every beach on the island or even hop over to the British Virgin Island (B.V.I.) to enjoy even more gorgeous beaches. 
6. Culture
Puerto Rican culture is interesting, and I say that with the best intentions. They are undoubtedly kind and welcoming. We don't speak Spanish yet have wandered into many strictly Spanish speaking areas, yet have always quickly found locals who are eager to chat and help if needed or just have simple conversations. The culture is sexy and proud. I would never want to get into an argument with them, but I for sure would love to party with them!
7. Seclusion
Working remotely can be tricky. While we've found that we tend to work a lot more efficiently and for many more hours being in a remote environment, we've also found that distractions are unavoidable when in close proximity to family, friends, and the like. While those distractions typically do not cut into our work responsibilities, they do cut into the extra time we like to devote to our side ventures, like Plentiful Travel, for example. Accomplishing the above and beyond tasks only happens when free of distractions, whether they are welcomed or not. Moving to Puerto Rico will free us from that and help focus our time and energy.
8. Vacation Home Investment
One of the reasons we decided to relocate to Puerto Rico is because quite simply, we knew we wanted to buy a home and not continue the endless, painful cycle of paying rent but we did not know where we wanted to live in the states. There were too many options and we were not 100% sure on any of them. So, we figured, let's do it "backwards"; let's buy a vacation home first and figure out our next move while there. Makes sense, right? We'll see!
Also, there is a HUGE Airbnb market there. Old San Juan has really only one major hotel (Sheraton Old San Juan).  With the convention center located close to Old San Juan/Condado, there are many opportunities to be successful in renting out our condo on Airbnb.  District Live! is also in the process of being built outside the convention center. It is supposed to be the premier event venue in all of the Caribbean that will surely drive in thousands of people to the island.  Lastly, San Juan, Puerto Rico is a major cruise port.  Thousands of cruisers arrive at the island every week. Even more of an opportunity for the vacation rental market.
9. Cost of Living
While we will not know all the details to relay the cost of living until we are living them, what we do know from our travels is that it is comparable but on the less expensive side of the continental U.S. While the food and especially produce is slightly higher than we were used to in Chicago or Los Angeles, the cost of recreational activities is about half or even less than half of what you could expect in the aforementioned cities. The housing market is in fact all over the board, depending on what you are looking for and where, but we were able to find a new ocean view high-rise condo in a popular part of San Juan for a comparable price to that of Chicago and for less than half the price of what you would pay in Southern California.
10. Change of Scenery
Not much to expand on there! Sometimes you just need a good, old-fashioned change of scenery in life to be inspired and to start a new chapter.
Now that we've given you our top reasons for moving to Puerto Rico, hopefully, you've been inspired to come see the wondrous place of Puerto Rico for yourself! If you do, be sure to check out our top recommended product essentials and some great things to do in San Juan!
The post Top Reasons to Move to Puerto Rico appeared first on Plentiful Travel.