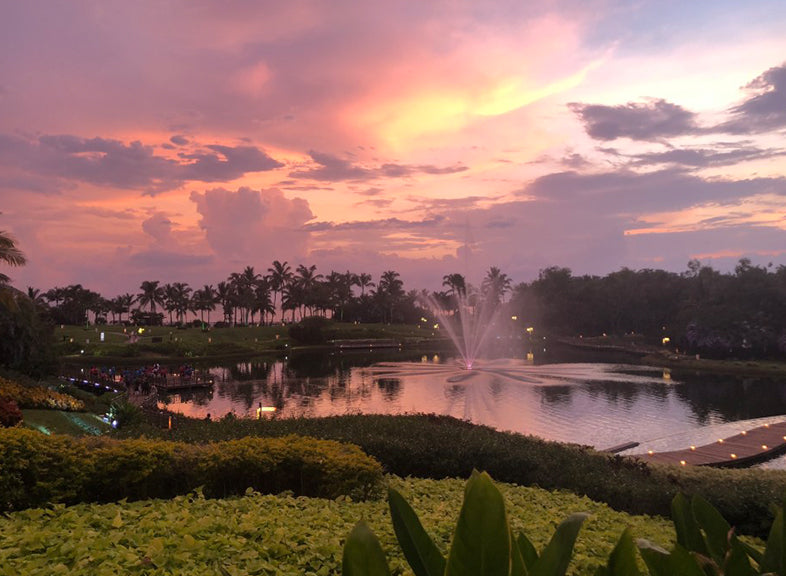 Vidanta Nuevo Vallarta – Grand Luxxe | Puerto Vallarta Resort
Vidanta Nuevo Vallarta – Grand Luxxe Resort in Puerto Vallarta, Mexico – A luxury 5 diamond resort winner just outside of Puerto Vallarta, Mexico. The Grand Luxxe by Vidanta sits beachfront and center to Mexico's natural beauty. High-end service, amenities, entertainment, and dining to fulfill your every desire.
Vidanta has quickly grown into a premier luxury resort brand throughout all of Mexico.  With locations in Cabo San Lucas, Puerto Vallarta, Nueva Vallarta, Riviera Maya, Acapulco, Mazatlán, and Puerto Penasco, you have several choices to enjoy the luxurious resorts that Vidanta has created.
Plentiful Travel's Vidanta Nuevo Vallarta Tips
When you land in Puerto Vallarta, you will have to pass a number of vacation reps trying to sell you on free tours or gifts, but in reality, you have to give up something, whether its a cost to be paid later or sitting through a timeshare presentation. If staying at Vidanta Nuevo Vallarta, book your transportation ahead of time and head straight for the exit of the airport to meet them.

If you are looking to save on costs for food and drinks, head to one of the many local grocery stores (including a Sam's club) and stock up on anything that you may need.  You'll save quite a bit of money by shopping there compared to the shops at Vidanta Nuevo Vallarta as they are quite pricey.

Learn the resort upon arrival.  Vidanta Nuevo Vallarta is HUGE. They provide shuttles to most places on the resort, but walking is required for the most part. Knowing the fastest routes to the beach, pools, restaurants and other attractions will make sure you do not spend too much time going in circles trying to find things.

If you are looking to rent jet skis, there are many vendors on the beach. Negotiate with them.  We walked down the beach through 4 different tour companies all offering different prices. We said no to one and 5 minutes later they came back to us offering the lowest price of all of them.  We first were getting $50-60 for 30 minutes per jet ski and ended up getting 2 jet skis for 30 minutes at $50.

Puerto Vallarta is fairly safe as it's a popular place for tourists.  Mexico, as a whole, can be very dangerous.  If you are concerned about crime, we would recommend

While the plunge pools in the suites seem like there are going to be so much fun, they are freezing and there is no heater. We didn't use it once other than to take some pictures and videos.
For more Puerto Vallarta vacation tips and top things to do in Puerto Vallarta, click here.
The Vidanta resort in Nuevo Vallarta consists of The Grand Bliss, The Grand Mayan and Mayan Palace, The Sea Garden and The Grand Luxxe Residence Club, all of which are located just 20 minutes from the Licenciado Gustavo Díaz Ordaz International Airport in Puerto Vallarta.
While there are many resorts in Puerto Vallarta to choose from, we chose the Grand Luxxe at Vidanta Nuevo Vallarta.  This was perfect for relaxation without needing to ever leave the property. Whether you are looking for a romantic getaway or a trip with family and friends, The Grand Luxxe at Vidanta really had it all.
We stayed at the Grand Luxxe Nuevo Vallarta in which there are studio, 1-2 bedroom suites as well as villa's available for reservation.  We had a 2 bedroom 2 ½ bathroom suite that fits 6 adults and 2 children. The 2 bedroom suite can come with 2 king beds or 1 king bed and 2 double beds. Also in the suites are a private terrace and plunge pool, full kitchen, living room and multiple in-room jacuzzi tubs.  The unit came stocked with dishes and utensils in case you wanted to stay in and cook a meal.
There are over 40+ restaurants and lounges located on the Vidanta property in Nuevo Vallarta. Everything from fine dining to poolside snacks to cocktail lounges and in-room options. The options are really limitless as they have Mexican cuisine, seafood, Italian, Asian, French, American and everything in between. Prices vary depending on which place you choose.
In the middle of Vidanta Nuevo Vallarta is La Plaza. A shopping center overlooking the resort containing a designer clothing boutique, a global food market, and a number of authentic Mexican art, street food, and games to try.  
There are many options for you to choose from but some of the key places in the market that you'll likely find useful are:
La Boutique: Designer resort wear for men, women, and children, great for picking up any clothing or skin care items that you may have left behind.

La Botica: Over-the-counter medicines, travel toiletries, and other travel supplies.

Market: A store for you to pick up some Mexican souvenirs before you head out

La Alacena: An international grocer offering produce, snacks, and bottled beverages.

Vid a Vid: Wine and spirits store to make sure you never go thirsty
Activities & Entertainment
The resort has several activities that are provided throughout the day from poolside games, arts and crafts and cooking classes. There are many pools at Vidanta, spread across the many resorts.  Some reserved for adults only to kid-friendly options. At night there are cultural activities for traditional Mexican food, music, and dance. There are also live music, fireworks and light shows throughout the week.  Even though they are not part of the resort, located on the beach are several options for water sports activities and rentals.
There are also 3 golf courses located on the property along with a golf academy and pro shop.  At Vidanta Nuevo Vallarta there are several spa's accessible for the guests to choose from along with a wellness center and fitness room.
Ideas for things to do in Puerto Vallarta off property
While we did spend a good amount of time on the resort, we did venture off the Vidanta property to catch some of the top things to do in Puerto Vallarta, such as Sayulita, Hidden Beach at The Marieta Islands (Spanish: Islas Marietas) as well as Boca De Tomatlan.
Sayulita
We heard a lot about Sayulita and decided to check it out seeing as it was only about a 45-minute drive.  Sayulita had some amazing beaches, beachfront restaurants and bars and plenty of things to check out in the small downtown area.  We spent most of the day relaxing on the beach. The beach there in Sayulita can be very crowded, but if you move down a bit you'll find areas with no one around you.  
Marieta Islands / Islas Marietas
Hidden Beach is one of the top things to do in Puerto Vallarta.  It's well off the coast of Puerto Vallarta so only accessible by boat.  We booked a catamaran through Ally Cat (http://allycatsailing.com/). We got to snorkel Marieta Islands / Islas Marietas which was a lot of fun as you walk through small beaches and coves.  Hidden Beach was unfortunately closed that day so we did not get a chance to check it out.
Boca de Tomatlan
Boca de Tomatlan is a very small fishing town just 10 miles south of Puerto Vallarta, so a fairly inexpensive cab ride. We spent the entire morning and evening over there.  The Boca de Tomatlan Beach is a great place to relax and catch some rays, with many restaurants nearby to grab a quick bite to eat. We made reservations at Ocean Grill Vallarta (Puerto Vallarta) which is only accessible by boat or taking about an hour long hike.  Colomitos Cove is just a few steps from the restaurant that has a pretty private beach. After hanging out on the Boca de Tomatlan beach, we made our way to dinner at Le Kliff, which was a perfect view restaurant overlooking the ocean and Puerto Vallarta.
Puerto Vallarta Vacation | Top Things to do in Puerto Vallarta
Plentiful Travel's Product Recommendations for Vidanta Nuevo Vallarta
$

24.99

EYE CATCHING: Beautiful retro cabana design in 6 vivid colours and a custom designed cotton pouch. Microfiber towels with character.…

$

24.99

900 Joule energy rating provides superior power protection for all your sensitive home office devices 2 powered USB ports (2.1…
The post Vidanta Nuevo Vallarta Resort – The Grand Luxxe appeared first on Plentiful Travel.